Events We Support and Recommend
For Your
Tropical Destination Get Away
Contact Us ............... wnyshore@gmail.com
______________________________________________________________________
OCTOBER 27, 2019
OPENER CHRIS BELLAMY.

When : 12:30 - 5pm
Whats to Eat : Tradition Pizza AND Happy Grillmore Food Trucks

Description :
Coley McCabe and Thom Shepherd are both award winning
songwriters for SheDaisy, Loretta Lynn, John Anderson,
Easton Corbin, George Jones & many more,
with 5 #1's including Redneck Yacht Club for Craig Morgan
and Riding with Private Malone for David Ball.
___________________________________________________________________
2019 Parrot Head Week in Key West FL.
Oct.28th - Nov.3rd
"Trop Rockin Travel"
Mon,Oct.28th=
Tue,
Oct.29th=
1p.m. =
Smokin' Tuna
Welcome To Key West My Friends w/Thom & Coley Shepherd!!!
Wed,Oct.30th=
7-11p.m.= The Bull
Atlanta Parrothead Club

Welcome to the Island Party

Live Music w/Jim Asbell

at the Bull on the corner of Caroline and Duval Streets-Sponsored

by Travel by Georgia
Thurs,Oct.31st=
11 a.m.-3p.m. =
Dante's
Tampa Bay Parrot Club
Pool Party
&
Halloween Flip Flop Contest
-
Live Texas Gulf Music w/ Jerry Diaz & Hanna's Reef
1p.m. =
Smokin Tuna
Thom Shepherd & Friends
Friday,Nov.1st=

7 - 9pm = Tiki House

Tiki Man Radio's Trop Rock Songwriter's Showcase

at the Tiki House 430 Greene St

-

Sponsored by Key West Smuggler Company w/ Jim Asbell
Sat,Nov.2nd=
9:30 a.m.=
Smokin Tuna
$5 Bloody Mary Party
w/Space Coast,The Villages, Bubba's Lost PHlock and Eastern Illinois PH Clubs
presenting the
"BOAT DRUNKS"
....
1-4p.m.=
Turtle Kraals
Barefoot Reggie Starrett's
2nd Annual Fan Appreciation Songwriters Showcase
-
Free Raffles, Give aways and Live Music
!!!! Guest's
2-2:30 Jim Asbell

6 - 10p.m. =

The Bull

-corner of Caroline and Duval Streets

Live Music w/ Jim Asbell
Sun,Nov.3rd=
____________________________________________________________________
2019 TOP Key West Sunset Sails
"Featuring The Top TRMA Winners"
Wednesday Oct.30th
Jerry Diaz Sunset Booze Cruise
(Since 2001)
(Special Guest Donny Brewer 13x TRMA Winner)
8x TRMA Winner
Limited to 100 guests per cruise
IMPORTANT INFORMATION!
Please print your PayPal receipt, and bring it with you to the cruise. We WILL have a boarding list of folks who have pre-paid, however, it is always a good idea to have that PayPal receipt just in case! The Cruise departs the Sebago Dock at approximately 5pm, and returns to the dock at approximately 7pm. We ask that you be in line at the Sebago dock between 4:30pm and 4:45pm. Boarding typically begins at around 4:45pm.
The Sebago dock is located at 205 Elizabeth Street (on the water, in front of the Schooner Wharf Restaurant)
TICKETS Wed. 30th Jerry Diaz Sunset Booze Cruise
Thursday Oct.31st (Halloween)
Jerry Diaz Sunset Booze Cruise
(Since 2001)
(Special Guest Rick Lamb & Steve Hopper)
8x TRMA Winner
Limited to 100 guests per cruise
The price of the cruise includes unlimited complimentary wine, beer, margaritas, mini cheeseburgers, fajitas, chips, and other finger foods. (mixed drinks are available at additional charge)
COSTUMES WELCOMED!!!
http://www.jerrydiaz.com/events/keywestsunsetcruises.html
Friday Nov.1st
Jerry Diaz Sunset Booze Cruise
(Since 2001)
Special Guest JIMMY MARAVENTANO
8x TRMA Winner
Limited to 100 guests per cruise
The price of the cruise includes unlimited complimentary wine, beer, margaritas, mini cheeseburgers, fajitas, chips, and other finger foods. (mixed drinks are available at additional charge)
TICKETS Fri. Nov.1st Jerry Diaz Sunset Booze Cruise
SATURDAY Nov.2nd
UPDATE 7/8/19
( Bonus Addition Line-Up :
Danny Rosato & Boomer Blake)
The Detentions Just Coast Sunset Cruise
(Special Guest Jonas Lorence)
3x TRMA
Duo of the Year
Unlimited Beer, Wine, Margaritas and Champagne.
A Cash Bar for mixed drinks will be available.
TICKETS Sat.Nov.2 The Detentions Just Coast Sunset Cruise
___________________________________
2019 Parrot Head Week in Key West, FL.
Oct.31st - Nov.2nd 28th Meeting Of The Minds
"License To Chill"
Must be an active Parrot Head Club Member to Register for this event. Please check the PHIP.COM for all rules and reulations.

______________________________________

Catamaran Concerts Presents:
Tickets for Shows BOOK NOW.... Projected Schedule.......
San Carlos Institute for the week of MOTM :
Wednesday, October 30th, NOON- 3PM: Girls Just Want To Have Rum.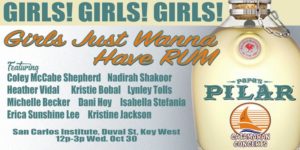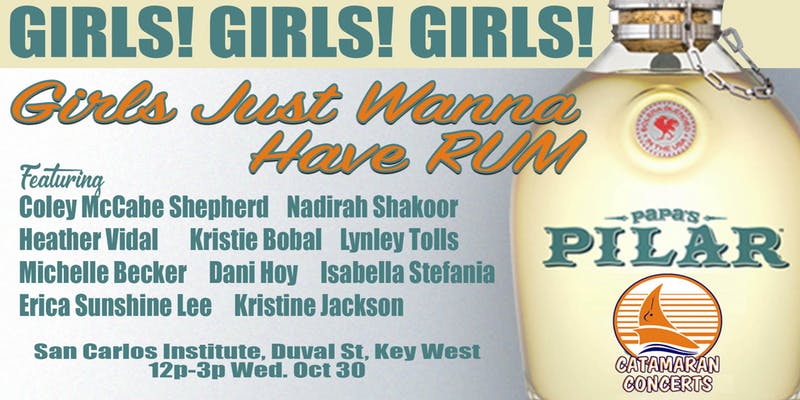 Thursday, October 31st, 8- 11PM, Fools on Stools.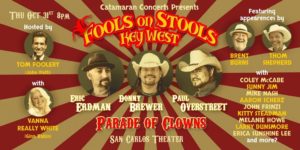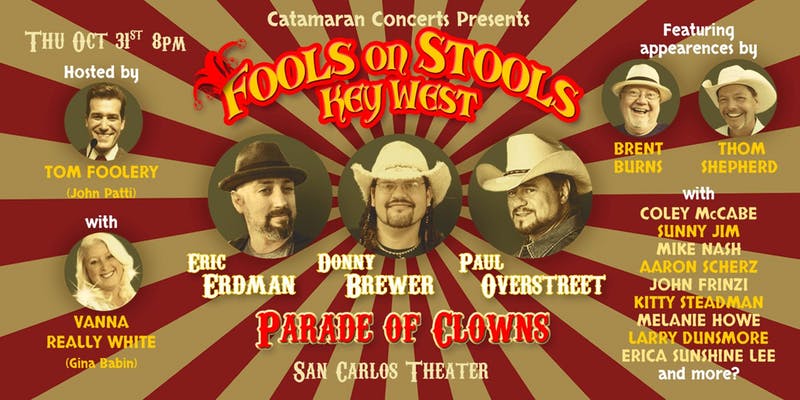 Friday, November, 1st, Noon - 3pm JACK MOSLEY BAND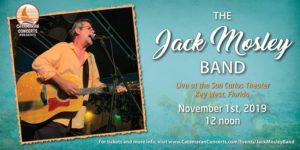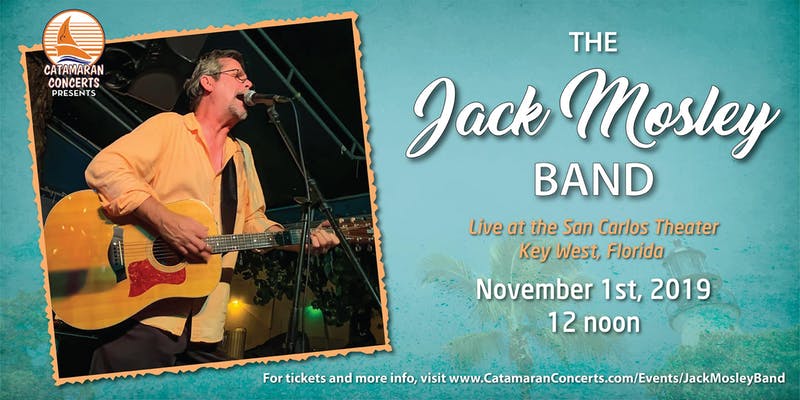 Friday, November, 1st, 8- 10PM, Jim Croce Tribute (John Reno)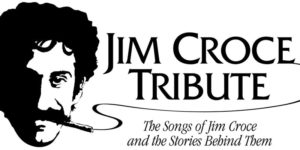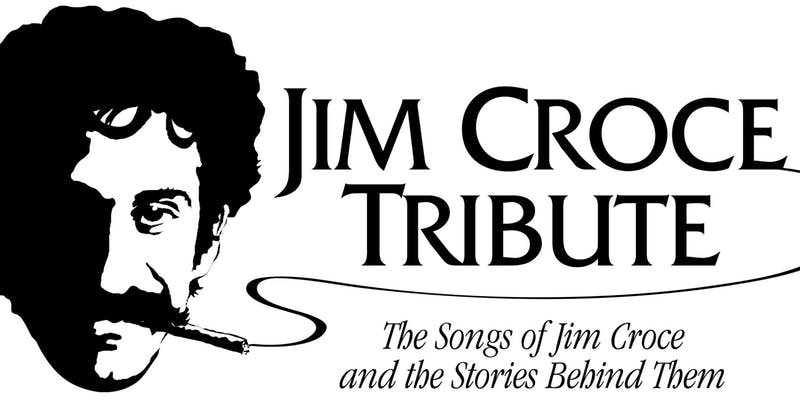 Saturday, November 2nd, NOON- 3PM, Legends of Trop Rock.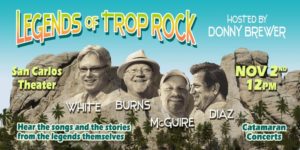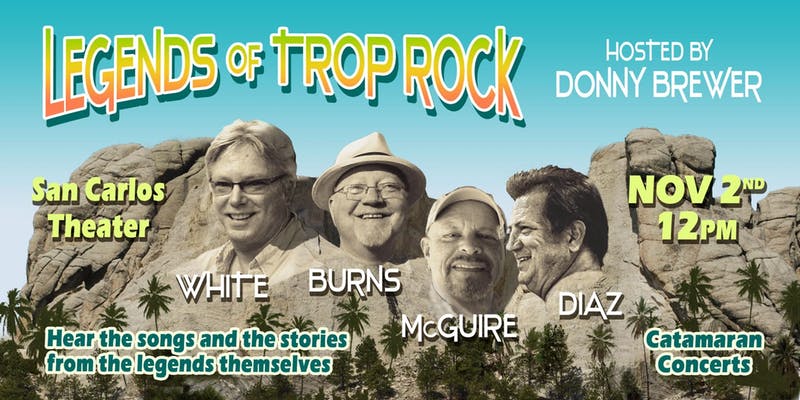 Saturday, November 2nd, 8 - 11PM, "Back Home Again" John Denver Tribute.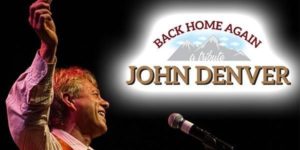 ________________________________________________
KEY WEST THEATER
SHOWS & TIMES
SOLD OUT
Nov.1st Trop Rock Music Association Awards
SOLDOUT
Fri, November 1, 2019
TRMA 1st Annual Horizon Showcase in the Back Stage Listening Room
Trop Rock Music Association Presents $20
Doors: 2:30 pm

/

Show: 3:00 pm
Key West Theater
Key West, FL



Join us for an intimate two-hour "listening room" show at The Key West Theater Friday, November 1st during Meeting of the Minds. In an effort to highlight up and coming artists in the Trop Rock genre, the TRMA is bringing you the 1st Annual Horizon Show. Named after the annual Trop Rock Music Award given to the artist who shows the most promise for contributing to the Trop Rock genre, this show is meant to highlight two of the many deserving artists. This show will be an acoustic "in the round" and they will be accompanied on steel pans by Mark Mireles.
Nov.3rd 7pm
-
Sunday night
in Key West this year and you haven't heard about the big finish to MOTM week, check out what
Mike Nash
,
Donny Brewer
,
Cosmo Mallardi
,
Sunny Jim Music
,
Jonas Lorence
,
John Patti
and a slew of guest musicians have planned at the beautiful Key West Theater. Our tribute to the songs of the Eagles night won't soon be forgotten! Find out more at
www.SouthernDrawlBandOnlineStore.com
and get your tickets before they're gone! Click to
BUY NOW
Nov.3rd 7pm (Back Stage Listening Room)
Songwriters Speakeasy Series
Key West Theater & The Big Stage Productions presents:
Songwriter Speakeasy Series: Roger Jokela, Derek Dunbar, Tony Roberts
Sun, November 3, 2019
Doors: 6:30 PM / Show: 7:00 PM
Key West Theater - Key West, FL
This event is 21 and over
$25-$45
_____________________________________
CALLING ALL ABACO FRIENDS....
ONE SHOW ONLY IN STUART,FL. @ MARTIN COUNTY FAIRGROUNDS
On December 14, 2019 the Barefoot Man is hosting a benefit concert for the Abaco Cays in Stuart Florida. 100% of the proceeds will be donated to the Abaco Cays.

The Barefoot Man (George Nowak) and the Sea N' B Band will be donating their entire salaries for performing back to the Abaco Cays. In addition, he is putting together a lineup of other acts which will also donate their salaries.

The benefit will be held at the Martin County Fair Grounds in Stuart Florida which can hold up to 8000 people. Add sponsor donations, alcohol sales, CD Sales, and a 50/50 and we hope to make a seven-figure donation

To make this happen we need your help. I'm making this post to call of anyone sympathetic to this cause to help use the power of social media to help promote this event.
Start by joining Facebook's Barefoot Man Fan Club as this will be your source of information about the benefit. Simply by joining, "Liking" posts, making "comments" on posts, and "sharing", Facebook knows that the post is something important and will promote the event by showing posts to even more people.

Next, invite your friends to join the group. The group is only 1 month old and already has nearly 400 members and is growing every day. By joining the group and sharing with your friends and then inviting your friends.. we will gain the power to reaching millions of Facebook users.

Lets make this event a success. The people of the Abaco Cays are faced with a challenge that will take years to rebuild. The Barefoot Man is speaking on the radio right now to promote the event. Let's make this happen. Hope for Abaco.

___________________________________
Trop Rockin' New Year's Eve 2020


Tuesday, December 31st, 2019
7:30 PM
Tickets On Sale Now
Best Value/Most Fun
Tickets Still Just $59.00 (early bird rate) and rooms just $97.00
Tickets for the 7th Annual Trop Rockin' New Year's Eve. Party at the Magnuson Marina Cove Resort in St. Petersburg, FL are on sale now. Go to www.troprockjunkies.com and click on the New Year's button or www.troprockinnewyearseve.com to order tickets and book your room. New this year everyone will be assigned a table. Just complete the "Seating Form" on the web site and it will help us provide you a table in your favorite area (Front, middle, back) and seat you with your group (parrot head club or other group).


As usual the Trop Rock Junkies will keep you dancing the night away. Starting the evening off we have Coconut Radio duo featuring Sue Kittredge and Steve Reeths. They will also perform poolside New Year's day.
The party of choice for Parrot Heads all over Florida
Let's make it another fun party and close out the year Parrot Head style.

Steve Tolliver
Magnuson Hotel Marina Cove

6800 Sunshine Skyway Ln S, Glen Saint Mary, FL 33711

2 RSVPs
Don't miss the 7th annual Trop Rockin' New Year's Eve party at the Magnuson Marina Cove Resort in St. Petersburg, FL. The event has become a tradition among parrot heads from all over the state and Southeast United States. Details at www.troprockinnewyearseve.com

View All Trop Rock Junkies Tour Dates
________________________________________________
2020 NEW YEARS EVE
Seating is limited for this New Year's Celebration
MANGO DROP TICKETS
WELCOME 2020 WITH US!
3-Day Celebration, $165 pp
Join us as we ring in 2020 Florida Style with Sunny Jim's "Mango Drop!" You've heard about the "Ball Drop" in Times Square? We're doing our own version with our favorite tropical fruit!
Sunny Jim, Donny Brewer and John Patti will be our entertainment for the New Year's Eve dinner/dance party, but the celebration starts Dec 30 and ends New Year's Day. Our three days of fun will take place at the

Hotel Venezia

in Venice, FL. Winter is a beautiful time of the year in Sunny Florida because the weather is mild and sunny, and we've got a beautiful beach in the neighborhood! Details are in the works, but here is our schedule for the Mango Drop celebration.
Mon. Dec 30 - Meet n' Greet Welcome Reception
Tues. Dec 31 - New Year's Eve Party and Mango Drop. Includes: Buffet Dinner, Party Favors and a Champagne Toast at midnight. Sunny Jim, Donny Brewer and John Patti will be entertaining us for the dancing and merry-making. There will be a cash bar available.
Wed, Jan 1 - Breakfast and Songwriter Show by Sunny Jim & Donny BreweR
Ticket Price for the 3 day celebration is

$165 pp.
The Hotel Venezia has offered our guests special group rates for rooms. To book your accommodations CLICK the Link Below.
___________________________________
2020 EVENTS & Info (all info is subject to change at anytime.)
Registration for Pardi-Gras 2020 is now open!
The dates are:
Jan. 16-19, 2020
French Quarter, New Orleans!
We limit registration to
450
people, and we will fill up!
First come, first serve registration!
Click
HERE
for a room at the Bourbon Orleans
________________________________________________________________________
CLICK HERE TO BE THERE !!!!!
2020 ONLINE REGISTRATION IS
OPEN!!!
MUSIC ON THE BAY 2020

Feb 26 - Mar 1, 2020
Whiskey Joe's Barefoot Beach
7710 W Courtney Campbell Causeway
Tampa, Florida 33608
Wed 2/26/2020 is our regular
TBPH meeting and is FREE!!!
Registration fee $96.44 per person
(cash discount fee $90.00 per person)
*After 1/13/2020 - NO GOODY BAG*
Registration fee $101.75 per person
(cash discount fee $95.00 per person)
Your ticket includes FOUR DAYS
event admission,
and shuttle service to and from
the event hotels throughout the event!!

Hotels, food, beverages, and
transportation (to and from airport) are not included.
_______________________________________________________
_______________________________________________________
2020 Rental Chairs
Ticket to reserve a chair found below
$30 per chair
1 ticket = 1 chair
(sorry it's so cumbersome)
ALL proceeds go to THE KIDS!!!
Please see 2020 Rental Chair tab for more details!
____________________________________________
____________________________________________
2020 Parrot Head Hat Contest


They Don't Dance Like Carmen No More
Ticket to reserve a spot found below
(once we open the contest up)
$22 per entrant
Limited to 10 Entrants
ALL proceeds go to THE KIDS!!!
Please see 2020 Hat Contest tab for more details!
_______________________________________________________
_______________________________________________________
***** NO REFUNDS *****
***** NON-TRANSFERABLE *****


All funds from cancellations will be donated to


Shriner's Hospitals for Children
This is an ADULT ONLY event.
ALL attendees MUST be 21 or older.
NO personal liquor or ice chests permitted
NO inappropriate attire permitted
_______________________________
Join "Music on the Bay" on Facebook
for news and updates
Questions - please contact us at
askmotb@gmail.com
CLICK HERE TO GET THERE !!!
______________________________________________________________________
Parrothead Beach Bash
Placencia, Belize May 13-16, 2020
HOME
INFO
ARTISTS
FACEBOOK
CONTACT
BUY TICKETS HERE

Join us in Placencia, Belize May 13-16, 2020 for the Parrothead Beach Bash - Belize!
Come enjoy the Caribbean sounds of:
Dennis McCaughey of Tropical Soul
Bill Cockrell and John Beck
John Friday
Additional local musicians will also be showcased during the event. Stay tuned for updates!
Tickets now on sale!

BUY NOW

Want to stay up to date? Join the mailing list to keep in the know!
Click Here


Join us to support
EDUCATION IN BELIZE

LEARN MORE ABOUT THE PARROTHEAD CLUB
+011 501 634 4702 / INFO@PARROTHEADSINBELIZE.COM

PARROTHEAD BEACH BASH BELIZE • MAY 2020 • PLACENCIA, BELIZE

© 2019 Parrothead Beach Bash Belize. All Rights Reserved.
________________________________________________________________________
May 31st
GreeK IsleS CruisE
Click Here BOOK NOW
Join Barefoot Reggie Starrett on the Cruise of a Lifetime............ Facebook Updates Click Here!
Click HERE For Cruise Information
______________________________________________________________________
FATHER'S DAY WEEKEND 2020
JUNE 18 - 21 2020 A1AParrotheads.org
JUNE 19 - 20 2020 FINSUPLG.COM
__________________________________________________________________________
2020 ISLAND FEVER SHOWCASE
Sept.4th-7th
2020 ENCORE
TICKETS ON SALE NOW !!!
________________________________________________________________________
_________________________________________________________________________