Merry Christmas and Happy Holidays from your friends at Tiki Farm!
We've got a few new designs for you just in time for Christmas. Also please note that any orders placed with Tiki Farm online up until the end of the day of Tuesday, December 14th will ship to arrive before Christmas!
"Makalani – Siren of the Sea"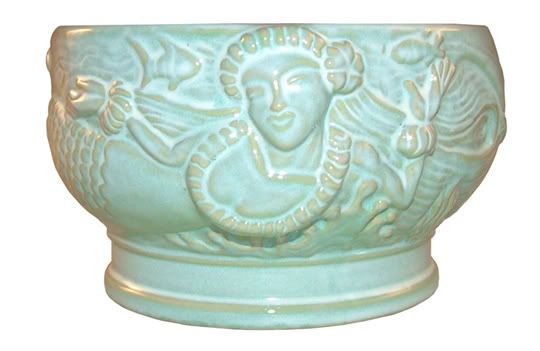 Our beautiful new Makalani mermaid bowl comes to life from the talented mind of Brad Parker (aka Tiki Shark) and your friends here at Tiki Farm. She is a perfectly sized drink bowl for 2 with a 32-ounce capacity. We present her to you in another one of our brand new, highest quality glazes. Her primary hues are of sea foam green and soft blue and her higher points are accented in hues of light golden brown. Her exterior glaze beckons of the sea and her interior beckons of your rum!
Artist's Series mugs in new, low-run glaze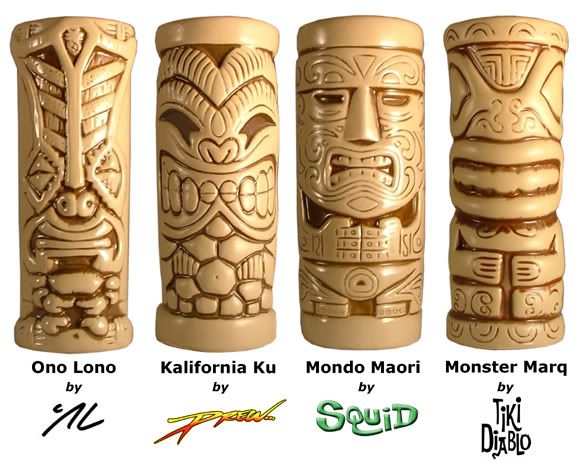 Having been a staple of our product line dating back to 2003, our artist's series mugs "Ono Lono, Kalifornia Ku, Mondo Maori & Monster Marq" designed respectively by Crazy Al, Drew Brophy, Squid & Tiki Diablo are now available in a low-run brown/natural satin glaze combination. These mugs have proven timeless given their practical sizing, imprintable back surface, "core Tiki factor" and their universal appeal. So we decided that since we haven't produced any new glaze versions of these designs for many years, we'd do it up old-school like we did early on with these mugs and offer them up to you in a brand new glaze direction.
And, they're also available as a boxed ready for gift wrapping 4-pack, too…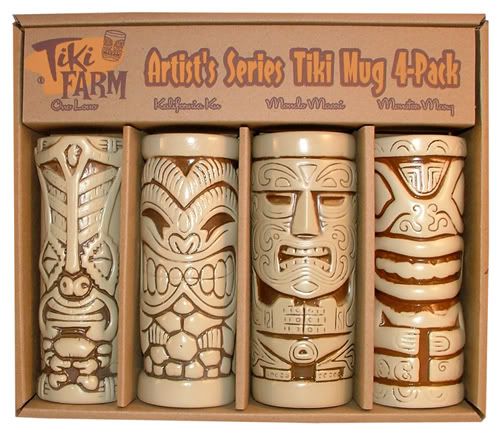 "The Samoan Witch Doctor"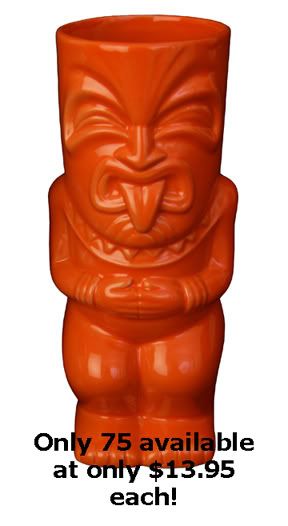 Designed back in 2008 by Squid for the "Tiki Hut Party Cove" Restaurant & Bar in Turks & Caicos, we've got the last remaining stash of 75 of these mugs shown above in it's coral glaze (it was also produced in blue). When we were originally approached to do this design, Squid & I kinda scratched our heads and we said, "what does a Samoan Witch Doctor look like?" Well, this is what Squid came up with and we think he's a pretty cool little fellow indeed. If you want to head over to Turks & Caicos to pick one up, go for it but if not, the only other place you'll find this elusive mug is online exclusively at our Tiki Farm website.
"Tiki Mugs – Cult Artifacts of Polynesian Pop"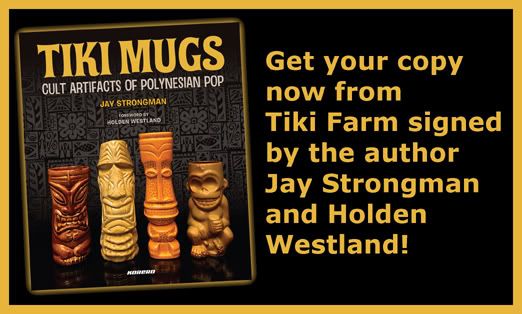 For full-blown tiki fanatics, or for those who are just dipping their toes into the tropical waters of tiki collecting, this is

the

guide. Tiki style is more popular than ever, and there are more collectors than ever peering out from the torches and palm trees. Written by a recognized expert in the field, this resource includes the complete production listings of the major manufacturers, from 1950 to today. An essential purchase for specialists, the photos and descriptions of styles such as the Frankentiki and the Monkey Mugstack will provide brilliant inspiration for those new to collecting.
This book hit #1 worldwide on Amazon in the "Popular Culture" category shortly after it's release! Here's your chance to pay just a few $ more than on Amazon BUT get a copy signed by the author, Jay Strongman and the foreward contributor, Holden Westland. COLLECTIBLE!!! 177 pages in total with some of the most amazing Tiki mug photos ever compiled and a great back end story of the original mug collecting era and the new modern mug making and collecting scene!
Also, be sure to scroll down our homepage and be play our 3-minute video of our recent 10-year exhibition showing at the La Luz de Jesus Gallery, compliments of our friends over at Crystal Cove Media.
That's all for now. BUT… we do have 3 brand new online designs coming out very soon along with 7 new commissions and right behind those… we are continuing into 2011 with our Tiki peashooter fully loaded with many great new products!
Happy Holidays to all of our Friends and we'll shout out to you 1 more time before the Holidays to wish you all the best and maybe even throw in a couple of "last minute gotta have-it's"! Thank you for your loyalty to Tiki Farm these last 10 years!
Holden and all your friends at Tiki Farm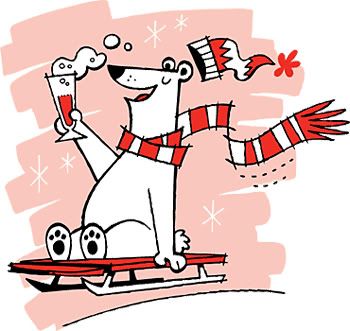 ---
Be sure to visit the Farm!