The Band Pirates,Guitars and Beachfront Bars (PGBB) has released it's 2019 Album "In Deep" now available on all digital outlets.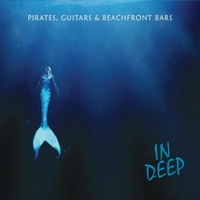 Stories Behind the Songs:
"Beach Song" = Jim Johnson (Pete Stork co-writer) "The main inspiration for beach song was to write a love song for my wife, Jill. I was also inspired by all the beach weddings I've seen take place over the years."
"Rum In The Bottle" = Jim Johnson "Rum In The Bottle is a dedication to all the great friends I've sailed with over the years. I picture each trip and person whenever I play it. It makes me smile!"
Who are the Pirates, Guitars and Beachfront Bars band ? You can follow the link for their description. I asked Jim Johnson my silly question? Great music with real island fun sounds and stories - How did a group of guys in Minnesota get so Tropical? Jim's response "How so tropical? People in our geographical area live for winter vacations. I've been sailing the Caribbean Since 2007. Sometimes 2-3 trips a year. These songs are snapshots of all the wonderful things I've been blessed to be able to experience over the years." Songwriting and music are tools Jim uses to keep all his Caribbean experiences scrape booked in his head. Jim shared with me while he is on stage singing these songs his smile is from the memory picture show going on in his head of the friends that inspired the lyrics. While Jim is the mastermind behind the lyrics and music he had Pete Stork collaborate on two tracks of this CD "Beach Song" and "Make Your Own Sunshine", But gives credit to this CD being a Band effort. "We wanted to combine our love of island music with our love of RockNRoll. Most Trop Rock is country based. We base our brand of Trop Rock in rocknroll. Our sound is pretty unique I think."
Meet the Band Members: Jim Johnson- producer, vocals, guitar. Pete Stork- bass, vocals. Chris Frankman lead guitar. Steve Haglund - drums All from Minneapolis, MN
CDBaby Amazon Spotify ITunes
Best way to get your own physical copy of the CD is to attend any of PGBB Live performances or use Amazon / CDBaby if you just can't make it to a "Live" performance.