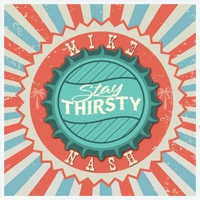 Mike Nash
owner/songwriter/lead vocals of
Southern Drawl Band
is very excited about the release of the bands latest
CD
"
Stay Thirsty
". This new
CD
will not disappoint any of the
SDB
or Mike Nash music followers looking for that southern beach party music to lawn chair relaxing. Maybe you are looking for the artist to pour more of himself into some personal lyrics. This is the CD you have been waiting for with personal lyrics in "
Postcards From The Road
" from life on the road and passion describing scenes of missed moments he wishes she could've seen with him explained in postcards was truly inspired by Mike's relationship with his daughter. This song is a pleasant memorable song for all who have been on the road, over seas or traveled a lot for work missing those moments in beautiful lyrics, written by
Mike Nash
. "
Redneck Riviera
" taps into the upper panhandle lifestyle of the LA (Lower Alabama) water ways and beaches. I betcha Ms. Helen Back sure is happy to have her Okaloosa Island Pizza Pub mentioned in this "Local Attraction" name dropping song for some of the Local Gems in the Florida Panhandle "
Redneck Riviera
". I also feel the influence of Mobile Bay in this French fun bayou song, Truly in the day at a Bama bayou festival one of the highlights was The Toss of The Mullet game off the home plate of a baseball field.For those of you that don't know the expression run of the mullet - Simple explanation is mullet is a type of fish that 9 times outta ten is what you see jumping and swimming in the coastal waterways of the Panhandle and other Southern locations. The Emerald Coast of Florida aka The Redneck Riviera has been the best budget for beach vacationers from all over the heart of the South to enjoy and play in the white sugar sand. Mike Nash truly captures this fun lifestyle in his lyrics. Although the beaches are amazing it's the beautiful spring fed creeks and waterways that cool you off as you watch kayaks, canoes, water crafts and the famous House Boats drift around. These villages of house boat living have your floating shacks to million dollar House boat Yachts. A song I can't stop listening to that you will find yourself wiggling your toes as you sway in a hammock to is "
On A Day Like This
" playing on your listening device. Co-written with Darryl Worley "On a Day Like This" is a love song waiting to be enjoyed by all. Brings back memories of some two steppin' Texas belly rubbing music. Love the simple country music in this great living in the moment song. Basic country rhythm with meaningful lyrics makes a song truly comfortable for a lifetime of listening.
"
Remind Me (who I am)
" is home of the free and poets words of the Mid- Western & Southern Living. A true Americanism ballot with all honors and colors of home. When you listen to Country Music a lot you find similarities in Lyrics - Hitting a true home run original is exactly what Mike Nash brought home to me in this song.
"Stay Thirsty"
is a must have in your Trop Rock Music Collection ... Get Yours
NOW
!!!
You May Also Download at
CDBABY
!!!!!!
MMT