"Tropical Denny is on a mission... to put a smile on the face of everyone who listens. Living on his houseboat and based out of Austin TX, Denny navigates North,South, East and West to deliver his 'Island Acoustic' music to smiling people everywhere!
Denny has been described as Jimmy Buffett meets Bob Marley
meets Willie Nelson.
Life's a BEACH when you're always SMILIN'!" Quote from an old Tropical Denny webpage.

"Houseboat Tapes" Album released in 2006 and "Music To Beach About" Album released in 1998 showcased that a "Beach'N Music" movement towards "Trop Rock" was being paved in the mid 90's. Tropical Denny had no idea his music would have a future in a genre called "Trop Rock".

Living aboard a houseboat writing songs with value and substance coming together like patchwork. Defying music gravity with light weight blues lyrics in "Pedernales Blues". Most Austinites will enjoy the trip through time as past bar names and historical surroundings are timelessly woven in these lyrics. A memorable song showcasing some authentic guitar picking made for Texas blues music. Tropical Denny was admired by artists, musicians and fans alike for his guitar picking style.

Enjoying the Texas Hill country lake life and Gulf coast vacationing time is what inspired Tropical Denny. You don't have to be from Texas to enjoy his graphic lyrical descriptions. Relocatable lyrics in "Neon Poisoning" explaining the inner late night drinking life in the glow of Big City lights. Neon lights line Nashville, New York, L.A. and Houston at night inviting everyone in for cocktails and dancing. Smokey bars and jukeboxes filling the need for an all night bender. Making requests for cover music not always admiring original music from the musician on stage. Electric Cowboy to Urban Cowboy the Honky Tonky life is a hard one for anyone and musicians trying to keep up that pace tend to fall in a bottle. "Sailing At Midnight" needs to played loud everywhere romance is needed. These lyrics invite you to be playfully flirtatious as you are whisked away for a late night rendezvous. Songwriting at it's best with suggestive word directions to hold my hand come away with me on a date night all planned out. This musical motion of a spontaneous getaway sets up a couple's embarrass to sway across the living room or just dance on a deck if you live on a houseboat as Tropical Denny did.

Tropical Denny is truly a memorable lyricist with his original "The Captain and The Cowboy" song. A unique folk fable story he wrote came to life between a rancher and a sailor with his guitar. Pairing two opposites together through music combining their views. The life like lyrics make you want to make plans to go see The Captain and The Cowboy performing in San Antonio.

Dennis "Tropical Denny" Wayne Gieger passed September 16,2015 leaving behind only 16 recorded songs the world should never let be archived. Another flame burned out before their time.


Keeping the music alive is giving a songwriter a chance to still be heard.............

Thanks for reading.. xo Millie Marie Taylor ShoreLifeRadio.com
BUY Tropical Denny's Digital Music @
Amazon - CDBaby
copied from
dignitymemorial.com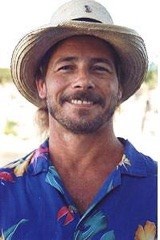 "Dennis Gieger, better known as "Tropical Denny" our wonderful, always smiling, brother passed away in the afternoon. He lived his musical life with gusto, always tropical…a true free spirit who always had the sand under his feet, his boat in the harbor and the wind beneath his wings. A songwriter, lover of nature, and a true musician who loved life every day. I can honestly say that depression was not in his vocabulary even though his battle with cancer was a long and exhausting one. His favorite thing to say to me, no matter the circumstances, was "remember to stay positive". We will all miss his smiling face, quick wit, and never ending jokes. Dennis and his music will live in the hearts of his family forever. Travel safe bro, we are here. Dennis Wayne Gieger 2/27/1953 – 9/16/2015. He will be missed." -Carolyn Farmer